Entitled, "WHAT IS YOUR SOCIAL MUSIC CURRENCY?" SoundCTRL hosts the only music-related panel during this week's Social Media Week in New York.
The discussion will be moderated by social media maven, James Andrews (Co-Founder, BeEverywhere.tv & TheKeyInfluencer.com), and the panel will feature: ?uestLove (National recording artists & infamous drummer of The Roots and The Jimmy Fallon Show), Andrew Katz (Senior Marketing Manager, PepsiCo), and Marisa Bangash (Co-Founder of Uncensored Interview).
In partnership with PepsiCo Music, dotMusic & No Longer Empty, the panel will explore the trading and bartering of social media currencies amongst artists, corporations and labels and touch upon who is successful in this trade to boost popularity, creating new revenue streams and promote "global goodness."
Where?
No Longer Empty – Never Can Say Goodbye Exhibition (also known as the former Tower Records building)
692 Broadway @ 4th Street
New York, N Y 10003
NoLongerEmpty.org
When?
Wednesday, February 3rd, 2010
Panel from 6:00pm – 8:30pm
Reception from 8:30pm – 10:00pm
SoundCTRL is a network of digital media professionals who are focused on advancing the music industry through the power of the social web.  Social Media Week is a week long, international conference, designed as  series of localized events, which city partners are responsible for organizing.  The aim of each event is to advance the use and understanding of social media in the corporate, public, and non-profit sectors (more info: SocialMediaWeek.org)
To RSVP to this event as Press/Media or VIPs, contact me.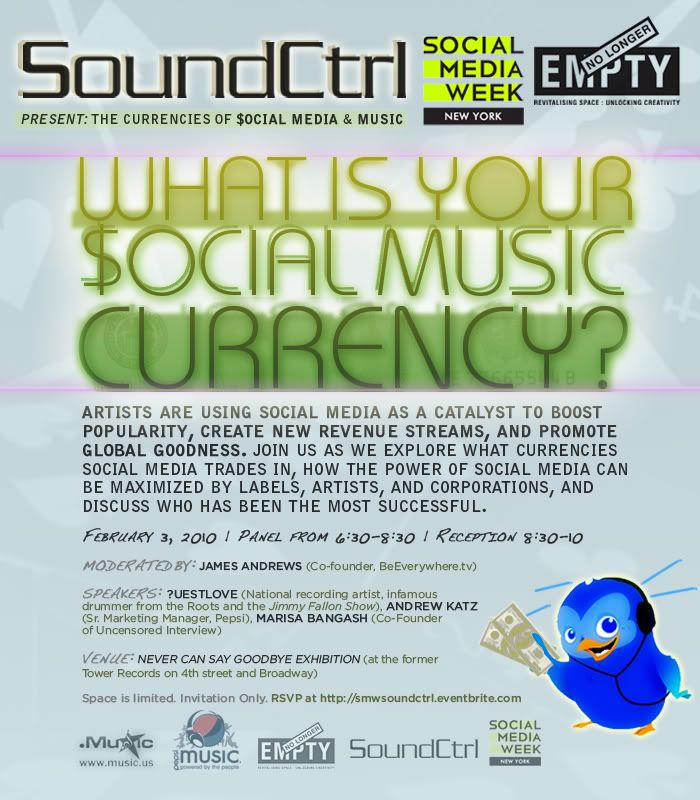 [Alyson Campbell for It's All Very PR]
Tags: ?uestLove, Andrew Katz, James Andrews, Marisa Bangash, No Longer Empty, PepsiCo, QuestLove, Social Media Week, Social Media Week New York, SoundCTRL, The Roots, What is your social music currency?