Last night, Mashable hosted the first event in a series of events called "NextUp NYC" at the 92Y's new downtown location, in Tribeca.
The topic at hand was the "State of the New York Blogosphere" and was moderated by Mashable's Adam Hirsch. In true techie form, the venue offered a separate "Bloggers Lounge" where the talks were being live-streamed so that those covering the event had ample plug-in resources and could blog from the comfort of a poofy leather couch instead of the crowded, glass-clinking room where the actual event took place.
The Run Down:
First up was, Matt Buchanan, the Associate Editor of Gizmodo. A very charming speaker, Matt spoke literally on what defines the NY Blogosphere.
Next up, Alana Taylor, an NYU Journalism Student & Contributing Writer for Mashable. A blogger herself, Alana's message was about putting yourself out there. Even if you don't actively engage in all social networks, she recommended signing up and putting your name on there, so that people can find you and connect with you, if they're looking. She also had an interesting perspective as a student, talking about how the professors at NYU are being forced to keep up with social media and the digital age so that they can teach their students about the changing landscape of journalism, instead of the other way around.
3rd up, Caroline McCarthy, a Staff Writer for CNET News / CBS Interactive. I loved Caroline's speech. She has a story telling way about her that made what she had to say fun, interesting and relevant. She plugged that everything is moving towards video content right now. She finished with a tid bit on Obama; Obama recently took an interview with The Huffington Post (an online-only publication) and this was the first official "new media" interview a President has ever done. Her thought on this? "I'm surprised it took new media this long."
4th up, Nicholas Carlson, Editor, The Business Insider (formerly known as The Silicon Alley Insider). Nick had lots of funny metaphors to illustrate his points. He urged us to "Use Explicit Headlines." We are not limited by characters or title length as are journalists in traditional print, so get right to your point in your headline, you can be more risky. He also reminds us that sarcasm rarely works when it's written. His advice to PR folks? Don't call to follow-up 5 minutes after you send an email (are people really doing this!?).
Final up, Bryan Keefer, Director of Product for The Daily Beast. He opened with, "Bloggers are thirsty and broke," and attempted to discuss online advertising and revenue models for the remainder of his time. Ultimately, he feels advertisers are greatly undervaluing the online space. Because it is so easy to measure online ads, via click through, conversions, etc, he feels that advertisers are neglecting to also count the brand exposure / brand recognition of those who don't click through, an intangible result often considered the core value of advertising in traditional print.
My Twitter Feed: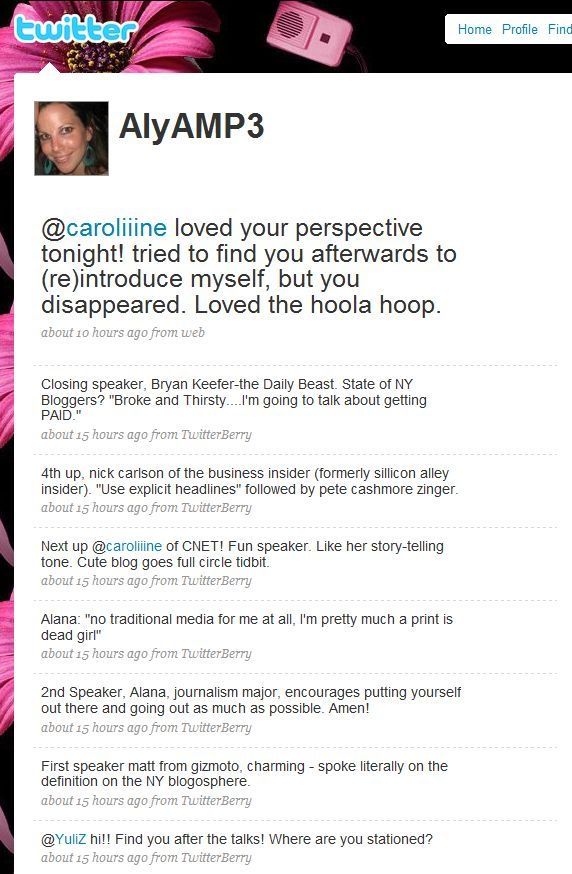 I nod my hat to all of the speakers of the evening, it takes courage to get up and speak in front of a rowdy crowd, especially one as informed and as intelligent as the mashable crowd!
[Alyson Campbell for It's All Very PR]
Tags: 92Y, Adam Hirsch, Alana Taylor, Alyson Campbell, AMP3 pr, AMP3 Public Relations, AMP3pr, Bryan Keefer, Caroline McCarthy, CBS Interactive, CNET, CNET News, Gizmodo, It's All Very PR, Mashable, Matt Buchanan, NextUp NYC, Nicholas Carlson, The Business Insider, The Daily Beast, The State of the New York Blogosphere