I knew that I was going to be in good company last night with two of my fav boys: OJ (who is of the original AMP3 era, and is hopefully going to be part of AMP3: The Next Generation…AMP3 Goes To Cali) and Ruddy Adames (my friend, client, and extraordinarily talented painter/artist).  But, what I did not know, was that we would encounter such complete and utter stark contrast between each of the evenings events – which was totally what made the night so amazing!
PART 1
We started out at the Van de Weghe Fine Art Gallery in West Chelsea, where they were unveiling the The Octagon Exhibition by Kevin Lynch, a series of Before & After photos taken of UFC fighters, before & after a fight.  When I got the invite in the mail, I immediately knew this event was for OJ, as he is my MMA guru and a huge fan.  I don't think any of us realized, though, that there would be such excitement in the air at the gallery, and that a handful of the fighters would show for opening night.
As we swiveled through the gallery, one-by-one, OJ pointed out people who were "a big deal" in the industry, giving me a brief bio pulled from his wealth of knowledge on each, in 30 seconds or less.  I felt like I was Meryl Streep and he was Anne Hathaway in The Devil Wears Prada, getting the scoop on who's who whispered in my ear, and then acting like I knew who these people were! (OJ: sorry for the girlie analogy, but its true!)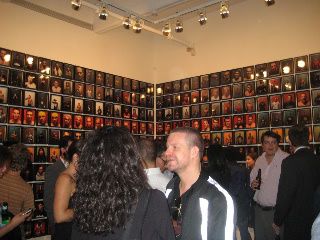 *A look at the exhibit; this whole wall can be yours for $150K
We said our hellos and shook hands with Kenny Florian (lightweight contender, smart guy, and co-host of MMA Live), Matt Sera (former welterweight champion, Long Island native who owns 2 local Sera Jiu Jitsu schools, and the first ever American to earn his black belt under Renzo Gracie) and most excitingly, the outspoken President of The UFC, Mr. Dana White, who OJ informs me purchased the dying UFC in 2001 for $2M with the help of his childhood friends Frank and Lorenzo Fertitta, owners of Station Casinos in Las Vegas (who Patrick McMullan tells me later showed up after our exit).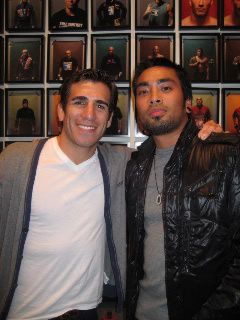 *OJ with Kenny Florian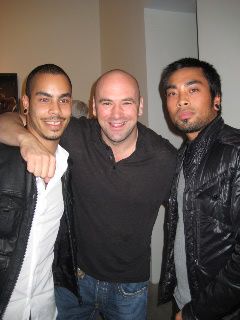 *OJ & Ruddy with President, Dana White
What was most-shocking was how star-struck I got when Chuck Liddell walked in, since his is really the only name I can associate with the UFC (other than Royce Gracie, wow, flash-back to my days of watching Regan & Ryan wrestle all day long, "he has him in the royce gracie!"), so who knew I was a fan? Turns out I am.  Chuck Liddell is bad a$$. I heart him.

*Chuck getting interviewed by the crowd


*Me & Chuck AKA The Iceman. He's huge!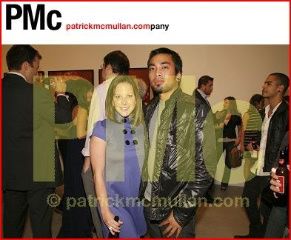 *The only pic of OJ & I from the night, courtesy of PatrickMcMullan.com
PART 2
Riding in style in OJ's new Mini Cooper Clubman, we cruised down to the Lower East Side in the rain for a Barack Obama-inspired "Vote for Change" fundraiser @ Gallery Bar (on Orchard & Rivington).  Our friend, my client, and huge democrat supporter Ms. Bob Bland was there, contributing some of her Brooklyn Royalty handbags to the Silent Auction which employed the lower level of the space, as well as selling her super cute, "Vote Barack Obama, Brooklyn Royalty approves this message" t-shirts, of which she so graciously sent OJ, Ruddy, & I home with.
Party-goers were on a mission to be active in the campaign, with discussions of Obama circulating the room, and a general mentality that we all have the ability to help in some way, but now is the time, on November 5th, it could be too late.  As a Canadian, and thus non-eligible voter, Bob assured me that if I have an opinion in this race, I can do my part by convincing eligible voters to register, proclaiming that she had already converted 1 religious republican to swing the other way in 2008.  How?  She's not sure, but the tangible result is there!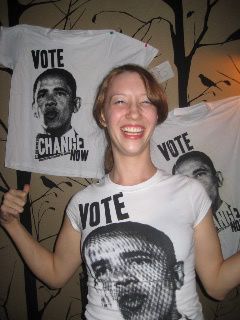 *Designer Bob Bland in her signature Obama Tee Design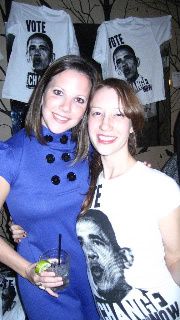 *Bob & I
PART 3
After a quick slice at Rosarios (AKA the BEST pizza in town), we were back in the mini coop and on our way to our final destination in the Flatiron District, The Metropolitan Room to see my client, Jazz Vocalist Marcus Goldhaber perform in Night 2 of his Double-Header Pre-Release Concert Series, in anticipation of the new album streeting on November 10th, 2008, "Take Me Anywhere".
Marcus' performance is an escape to a different time. After 2.5 years of working with Marcus, I can say that he operates with the manors and goodness reminiscent of the 1930s (the era, from which he sings). He always holds the door, he never gives the impression that he's in a rush (like most New Yorkers cant help but do), and he'll give you the coat of his back (and he actually did, later on, because it was raining on our way out). To top it off, he carries a pocket watch, and has never listened to Justin Timberlake
.
Taking in a Marcus show is a relaxing throw-back, to a simpler time, and a simpler place. It was the perfect way to cap off our hectic and diverse evening, with a glass of white, good company, and great music. Not only is it exciting to see the growth in Marcus' live performance since the beginning of his career, and to hear brand new original material that seems to be flowing out of him like an unstoppable force nowadays, but I have to say, his band, "The Jon Davis Trio" were on point as well: Jon Davis (piano), Martin Wind (bass), and my favorite: Marcello Pellitteri (drums). I'm always a sucker for great percussion.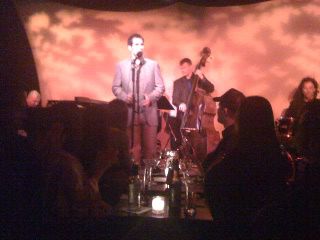 As we strolled out of the space post-concert, we decided to pop in a venue next door to wrap on the show and cap off the evening. *Cute New Venue Alert* Catch 22 on 22nd between 5th & 6th. I knew when we arrived at the door that it is apparently the new "it" spot (and I'm told on Friday Nights, it is especially so), when I saw Andrea Westinghouse (now Mrs. Andrea Westinghouse Imposimato) working the door. Andrea is an NYC Nightlife Door Staple, who works the newest of the new clubs and the hottest of the hot events, because of her talent for recognizing who's who, and making sure the VIPs get the VIP treatment, and DO NOT wait in line when they show. Andrea was also the door girl at the deceased Happy Valley Nightclub, one of my most exciting clients of 2006 known for its gaytacular Tuesday Night party thrown by Nightlife Royalty Susanne Bartsch. Andrea is now married to former Happy Valley Nightclub owner, Sal Imposimato (I attended their beautiful Union Square wedding last May), and is with child! She was glowing and beautiful at 3-months pregnant last night. Congrats guys!

*Marcus discovering a fellow pocket-watch holder over at Catch 22!
So there you have it, after a fun-fillled evening of nice fighters, active democrats, and mellow jazz-enthusiasts, we called it a night. Another random and amazing NYC day under our belts!
(Alyson Campbell for Its All Very PR)
Tags: Alyson Campbell, amp3, AMP3 pr, AMP3 Public Relations, It's All Very PR